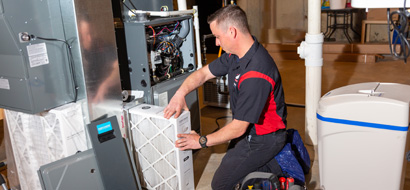 Those who live in Oswego, Yorkville, Naperville, Aurora and Plainfield (IL) could reasonably argue that the summers are too short and the winters too long. They could also say a thing or two about heat that's high and cold that's low (as in real low).
But each year there's the prize in the middle: fall. Heat and humidity give way to vibrant colors, crackling fire pits, weekend football games and pleasantly mild temperatures. We slip into a light jacket or sweater and step out into bright but cool sunshine. The trees are dressed in red, yellow and orange, and the scent of burning leaves trails through the air.
The Illinois autumn can favor your HVAC as well. It's the perfect time to schedule an inspection and tune-up for your heating system to ensure it's in top working order well before you need it.
Fall's moderate temperatures benefit you because you typically don't need to run your furnace often. This lets you schedule service on a day when the windows might be open and the house feels pleasant throughout.
You'll also be less likely to get in a bind if your furnace malfunctions or needs repair work. With time to spare until the cold sets in, you can have your system ready for the winter push while you enjoy what autumn offers.
Plus, winter is usually a peak season for HVAC professionals, and their schedules and availability can be more crowded. Because demand can exceed supply of heating service, prices also can start to increase. Scheduling furnace maintenance in the fall helps you avoid potentially greater costs and wait times.
And that's not even all. You have other great reasons to have your furnace inspected and maintained in fall.
What's Included in Fall Furnace Maintenance?
A fall furnace inspection for homes in Oswego, Yorkville, Naperville, Aurora and Plainfield covers three factors essential to HVAC: safety, efficiency and operation. All three should be at their highest levels.
To ensure optimal safety of your system, the technician will check:
carbon monoxide levels
safety shut-off equipment
heat exchanger
proximity to anything combustible
circuit board
blower motor
furnace's temperature rise
proper flue venting
gas-line components
wires and electrical connections
The technician will also thoroughly clean the furnace, including components such as the flame sensor, the furnace cabinet and the plenums, which are metal boxes that help supply air to the system and move it into the home.
To reinforce heating-system efficiency, the technician will determine if the furnace is in its best shape for keeping you warm or if any components might be slowing it down. A few of the steps will include checking:
flue pipe and draft diverter

blower motor and inducer motor amp draws

blower capacitor

blower assembly cleanliness
The air filter also will be checked and then replaced if needed.
Beyond being safe and efficient, your furnace should have proper operation from bottom to top as well. Are all system components in sync and doing their job? The technician will find out by inspecting everything from the pilot light to the ductwork.
The Benefits of Fall Furnace Maintenance
We've already mentioned that fall is ideal for your furnace inspection in Oswego, Yorkville, Naperville, Aurora or Plainfield because of the mild weather, limited system use and typically greater availability of service.
By tuning up your system before winter, you also contribute to:
lower energy bills. A maintained furnace requires less effort to operate, meaning you can stay warm for less cost. Maintenance can improve system performance by 30% or more, which also minimizes your system's environmental impact.

reliably consistent temperatures. When it starts dipping into the 50s and well under outside for several months, you want steady warmth from room to room in your house. A thoroughly maintained furnace heats your home more evenly.

fewer breakdowns. It's late November and snow flurries are swirling. The furnace doesn't turn on, and nothing you do will help it to start. Besides having no heat, you might be looking at a costly repair. Maintenance can help avoid that scenario.

longer system life. Many of today's furnaces can run for as long as 15 to 20 years if they are inspected and tuned up each year. With system replacement at $4,000 to $6,000 on average, an extended lifespan is a desirable goal.

your warranty. Many furnace manufacturers require proper system maintenance to keep warranty coverage active.

air quality. A system that's maintained will usually produce less dust, dander and allergens.
As you can see, that's quite a list! For the modest cost of annual maintenance, you gain a return on investment that is far greater.
Contact Us Today
Your local HVAC professionals at Air Dynamics help you enjoy more comfort and warmth with less discomfort and inconvenience. Give yourself an easy-going start on a pleasant heating season by scheduling your fall furnace maintenance in Oswego, Yorkville, Naperville, Aurora or Plainfield (IL). Just give us a call at (630) 731-1550!