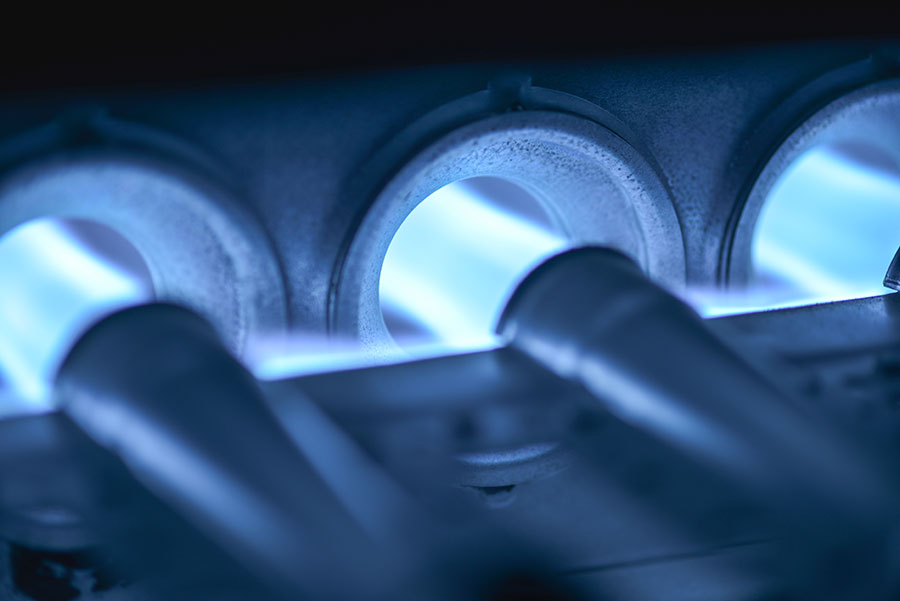 Scenario: Winter is approaching. As a proactive homeowner in Oswego, Yorkville, Naperville, Aurora or Plainfield (IL), you've scheduled maintenance for your furnace to ensure it will be ready for the cold. The technician arrives and examines the unit.
Once done with the inspection, the technician explains that your furnace's heat exchanger is broken or cracked and should probably be replaced.
Have the contractor show you the exchanger. Anything broken or cracked that affects combustion will be easy to see. The technician should also be able to explain how water or a smoking agent can escape gaps in the exchanger.
If the evidence is there, you'll want to act on it soon. A cracked or broken heat exchanger can expose you and anyone who lives with you to dangerous carbon monoxide gas.
You will have two choices: swap out the heat exchanger or replace the furnace. At first, it might be easy to think that just changing the part would be more economical. However, replacing the heat exchanger is similar to putting a new engine into an older car. Is the repair a worthwhile investment, or would you be better served by a full replacement?
Before you make a decision, give good thought to the following three factors.
Replace Heat Exchanger or Buy New Furnace 1: Age of the Furnace
Many of today's furnaces are made to run for about 15 to 20 years. An older furnace may serve for 10 to 15 years before it begins to slow down. Any furnace older than 10 should be monitored for age-related malfunctions. Some common signs are:
utility bills are rising (more power consumption).
need for repair and maintenance has gone up the last couple of years.
burner flame is yellow or orange (it should be blue).
furnace is making odd sounds.
unit frequently cycles (turns on and off).
more dust is settling in the house.
If you don't already know your furnace's age, you can refer to the serial number, which may appear on a tag on the unit's cover panel. Once you locate the number, go to the manufacturer's website to determine the age of the furnace.
Replace Heat Exchanger or Buy New Furnace 2: Heating Efficiency
If you're beginning to notice hold or cold spots in your spaces at home, it's a sign that your furnace may be on its last legs. Rising energy bills will also usually accompany this uneven heating.
Replace Heat Exchanger or Buy New Furnace 3: Warranty
Many newer furnaces in Oswego, Yorkville, Naperville, Aurora and Plainfield have a 10-year parts warranty. Some might carry a limited lifetime warranty. If your coverage is still active, a heat-exchanger replacement could be included.
Keep in mind you would still possibly pay for the labor, as many labor warranties are good for one to five years (not 10) after a furnace installation. Because replacing a heat exchanger can take up to eight hours or longer, it represents the bulk of the cost.
If your warranty is expired, and you would need to pay both parts and labor for a new heat exchanger, look further into whether a full unit replacement would be more advantageous for you. Beyond getting more for your money in the long run, you could also save big on utility bills, as many current-day models are highly energy efficient.
So Should I Replace the Heat Exchanger or Buy a New Furnace?
If parts and labor are still under warranty, you can probably replace just the exchanger for now. If you're covered for parts but not labor, you can further discuss the pros and cons with your HVAC professional.
Outside of warranty coverage, if your furnace is 10 years or younger and it still heats your rooms evenly, you can often proceed with replacing just the part. If it is older than 10 and not evenly heating your rooms, you'll want to start considering a full replacement.
Contact Us Today
At Air Dynamics, we enjoy informing you about your heating system so you can make the best decisions for your comfort, safety and budget in Oswego, Yorkville, Naperville, Aurora or Plainfield. If you would like more details about replacing a heat exchanger, please give us a call at (630) 731-1550. We'll be glad to help you!