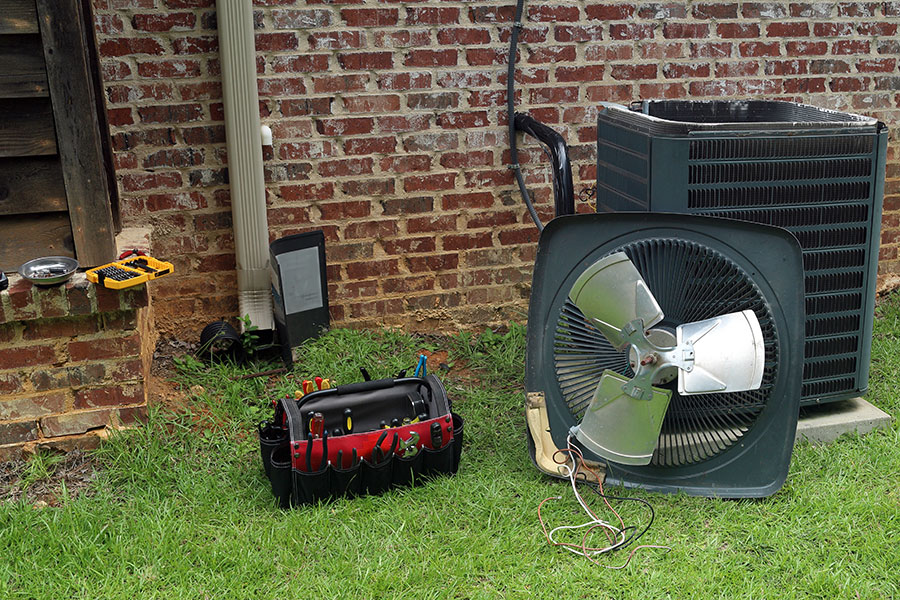 It's summer in Oswego, Yorkville, Naperville, Aurora and Plainfield and your AC turns on. Sometime later, you notice that air is blowing through the vents but not cooling your spaces.
On another occasion, when the AC activates you hear a shaking and stuttering from the outside unit – what the HVAC profession might refer to as a "hard start."
At still another time, you notice leaking from the outdoor unit.
You contact your HVAC service provider to let them know what's going on. They send a technician to inspect your AC, and it's determined that you have a failing compressor.
Located in the outdoor part of your cooling system, the compressor circulates refrigerant through your air conditioner. The refrigerant is the substance that removes heat from the warm air you're looking to keep out of your home when temperatures rise.
As the compressor circulates the refrigerant, it pressurizes it as well. This pressurization adds heat to the refrigerant and lets that heat be released to the air outside instead of into your air inside.
The compressor is vital to your system, which cannot function correctly without it. For this reason, the compressor must be swiftly replaced if it fails.
When a compressor needs replacement, you might be surprised by the price tag. A new compressor is expensive because the part itself is costly and the installation labor takes time (usually at least four hours).
In some cases, the cost of a new compressor can rival that of a new air conditioner, particularly if the unit is no longer under warranty. The question then becomes whether you should replace the compressor or buy a new AC.
Replace the Compressor: Should I?
In deciding whether you should replace the compressor or buy a new AC, you have a few guidelines that can assist you with the choice you wish to make.
If your AC is younger than three years old, replacing the compressor can often be a smart move. The unit is still relatively new, and a replacement compressor can help ensure a good remaining performance life for less than a new system would cost.
If your AC is between three and 10 years old, consult with your HVAC professional about whether replacing the compressor makes sense. It might not if your unit has shown other issues beyond the compressor, such as a failing condenser unit. A system replacement can sometimes be a better investment. Weigh the pros and cons.
For a system older than 10 years, definitely consider buying a new AC over just replacing the compressor. Many AC units start aging more rapidly after 10 years. If the cost of a compressor replacement competes with an all-new AC, your money will be better spent with a new unit with the latest capabilities.
You might also choose to buy a new AC rather than replace the compressor if you don't have particular budget concerns. If money is not an issue, buying a new AC is always an option because of the pace at which HVAC technology continues to advance.
Contact Us Today
Air Dynamics specializes in AC service and advice for Oswego, Yorkville, Naperville, Aurora and Plainfield. If you have questions about whether to replace the compressor or buy a new AC, we would be glad to help you be more informed in making the best decision for you. Simply give us a call at (630) 731-1550.