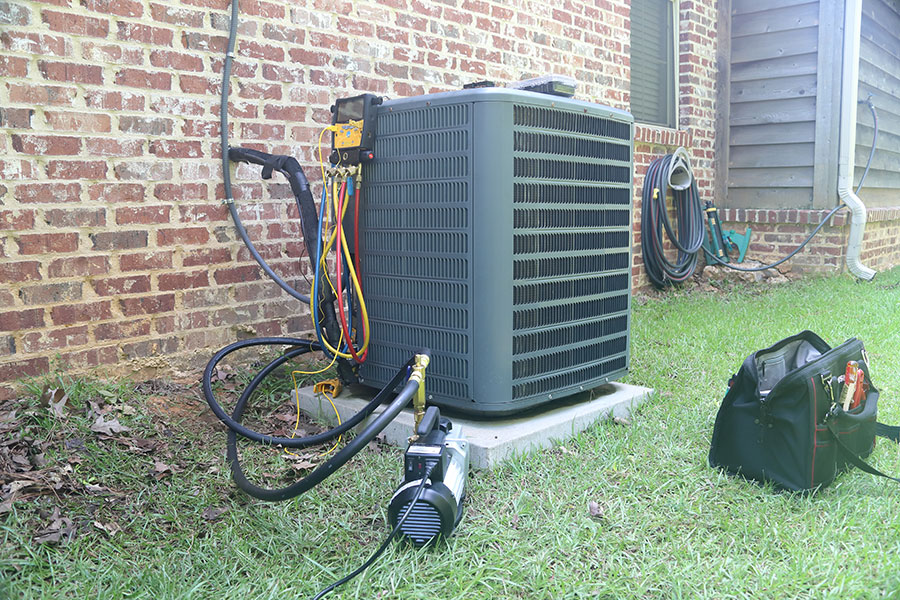 Many of us at some point will face a big HVAC question: Should I replace my air conditioner, or just keep repairing it?
When late spring and the summer roll around in Oswego, Yorkville, Aurora, Naperville and Plainfield, if the AC isn't working, we need to resolve it. Oftentimes, a fix might be all that's needed. You might be surprised how often we are consulted for a second opinion about a replacement, and it turns out the unit only requires the right repair.
You just don't want repairs to become too frequent, as this can be a leading sign toward replacement. Whether you choose to repair or replace, what matters most is that you be properly informed.
For our current discussion, we'll consider some things that might help you determine which course of action might be best for you.
Air Conditioner Repair or Replace / Age and Condition
If your air conditioner is older than 15 years, keep an eye on it, as many units enter their twilight beyond that time. If you're unsure of the age, you can often find it on an inspection sticker on the equipment's front or side. If not, you can call your local building department to learn when a mechanical inspection was last requested for your property.
The air conditioner's serial number is another source. On many models, the first four digits represent the year and the week or vice versa.
Even if your unit is 15 years old, if it's in good shape, not making strange sounds or smells, and cooling as it should, you should be able to continue with periodic maintenance and any basic repairs it might need.
If on the other hand it looks worn and is starting to act up more, you might be ready to look seriously into a replacement. Should you ever need further guidance, an HVAC professional can further assist you.
Air Conditioner Repair or Replace / Cost of Repair
The expense of a repair is another leading determiner of whether a replacement makes more sense. One rule of thumb can be to consider a replacement if a repair will cost more than $800 for a unit that's older than 10 years. If it is younger, the expense might still be a good investment for several more years of performance.
Another common guideline you might be familiar with is the $5,000 Rule. To calculate your number, multiply the cost of needed repairs by your system's age. If the total is more than $5,000, you might consider a replacement, as you can find some new air conditioners that start at around that amount.
It's also a good idea to keep a file or other record of your repair and maintenance work through the years. If you find the invoices and receipts are really starting to add up, a replacement once again becomes a reasonable possibility.
Air Conditioner Repair or Replace / Utility Costs
Are you noticing energy bills creeping higher but the utility company hasn't increased the rates? It can be a sign your air conditioner is working harder for longer to cool your spaces. This can be particularly true of older units.
In addition to mounting repair work, be alert to any energy-bill patterns that are trending in the wrong direction. If you determine a replacement will serve you better for a lower long-term cost, many of today's models with a standard SEER rating of 13 to 16 can perform superbly for you when properly sized.
Air Conditioner Repair or Replace / Comparing Benefits
Now that we've discussed some of the top factors, let's quickly summarize whether repair or replace could best serve your current situation.
Potentially repair if:
your system is 10 years or younger
the system's age multiplied by the repair cost is less than $5,000
your repair frequency and energy bills are normal
One other thing to note is if you will be moving anytime soon. If so, repairing your unit might make more sense than replacing it.
Potentially replace if:
your system is 15 years or older
the system's age multiplied by the repair cost is more than $5,000
your repair frequency and energy bills are increasing
Another benefit of replacement is that new units come with a new warranty, which can cover repair work for up to another 10 years. Today's systems also are always improving in their ability to control temperature and humidity for greater comfort and air quality.
Contact Us Today
We enjoy assisting home and business owners with what they need for ideal HVAC in Oswego, Yorkville, Naperville, Aurora and Plainfield. If you have any thoughts or questions about whether you should repair or replace your air conditioner, simply give us a call at (630) 731-1550.