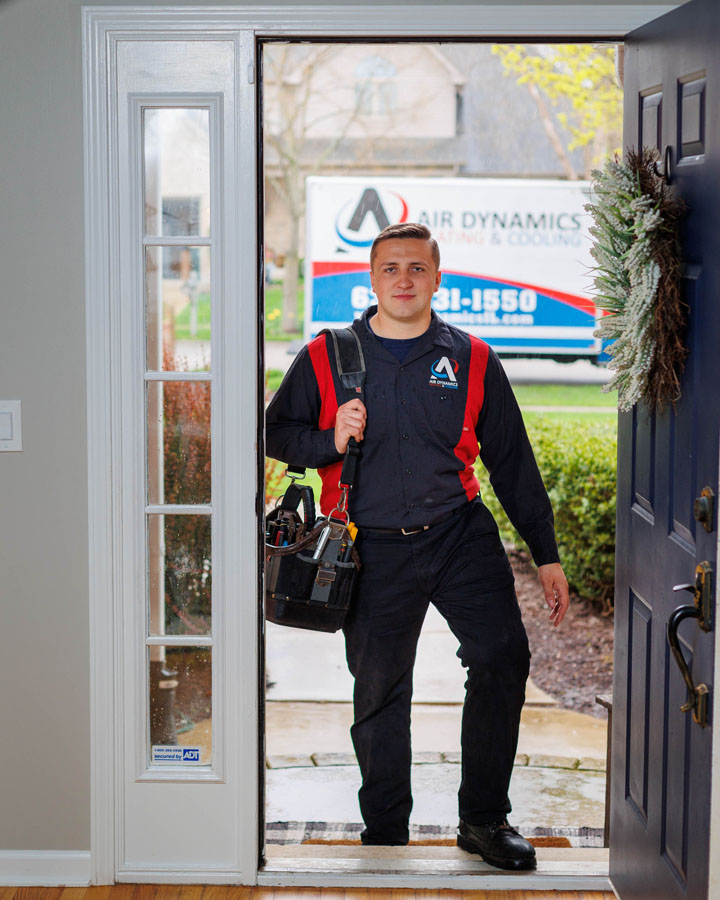 We spend a lot of time in our living and work spaces. We also design them to adapt to us as opposed to our having to adjust to our Midwestern weather conditions, which we know often swing from one extreme to the other.
Properly functioning HVAC systems are vital to our comfort and safety throughout the year. Any time is the right time to repair or maintain them.
Air Dynamics Heating & Cooling specializes in air conditioning repair and maintenance for North Aurora. We make sure your cooling system is running as it should both in preparation for the warmer months and during the seasonal heat and humidity.
North Aurora Air Conditioning and Cooling Repair: Sincere About Service
We all hear the word service from just about every business we deal with. To us, it is much more than a term or a status quo promise. We treat it as a banner next to our company name to represent character, transparency and follow-through.
When you partner with Air Dynamics for air conditioning/cooling repair in North Aurora, we will always:
ensure you understand how your specific system works, including what might need attention and what is working properly
for visits you schedule, e-mail you information about the NATE-certified Air Dynamics technician who will serve you
call you 30 minutes before your technician is to arrive
Your comfort and safety matter to us, so we are satisfied only when you believe you have been fully attended to.
North Aurora Air Conditioning/Cooling Repair: Swift and Skillful Responses
When your air conditioning malfunctions during hot weather, time is of the essence. We are ready to serve you whether you schedule your appointment to fix a glitch or need us right away because of an AC failure. We also offer 24/7 responses to confirmed system emergencies.
Our experienced technicians are skilled with all brands of air conditioners, including Carrier, York, Payne, Bryant and Lennox. They know exactly how to troubleshoot and correct what might be preventing your system from keeping you cool and comfortable.
North Aurora Air Conditioning/Cooling Repair: Conscious of Your Costs
A sudden problem with air conditioning in summer can be both inconvenient and stressful. Plus, sometimes it happens when we don't have money set aside for repairs.
Air Dynamics' number-one concern is that your air conditioning is working as it should. At the same time, we are sensitive to your expenses. We help you keep them down by ensuring you allocate only what you need for consistent, continued cool air.
In addition, we reinforce many of our air conditioning/cooling repairs with five-year warranty plans for even greater peace of mind for system finances and performance.
Our North Aurora customers can save even more with our All-Inclusive Maintenance (AIM) program including no diagnostic fees, two annual system tune-ups and a 10% discount on any air conditioning repair. Be sure to ask us more about it! 
Plus, with our No Breakdown Guarantee, if you proceed with a cooling repair we recommend, we will guarantee the work for the following three months. If your air conditioner malfunctions within that time, we will return to correct it at no cost.
North Aurora Air Conditioning and Cooling Repair: Contact Us
When your air conditioning appears to not be working right, don't wait a moment longer than you need to address it. Call (630) 731-1550 or e-mail us to discuss our air conditioning and cooling repair and maintenance for North Aurora, IL. 
Visit and 'like' our Facebook page