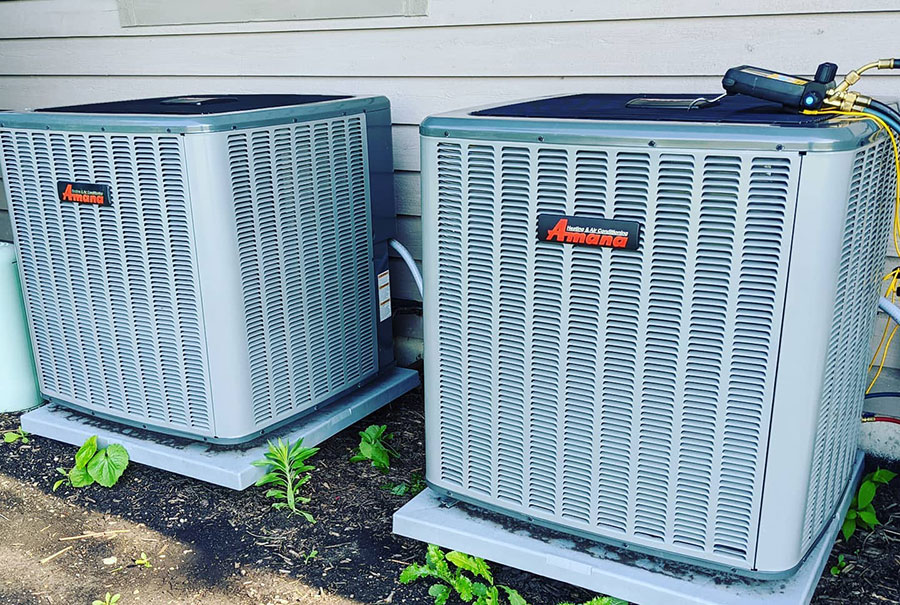 Summer in Aurora (IL) is a great time of year. At the same time, most can agree that our enjoyment of it can change if we ever find ourselves stuck with AC that isn't working.
Aurora homeowners depend on their air conditioning unit when the heat presses in as it will. Properly functioning AC will keep you comfortable while helping to spare you from inconvenience and extra costs that most of us don't plan for.
Air Dynamics Heating & Cooling is ready to support you whenever you need AC repair, install or maintenance. In some cases, we can even provide next-day installation of new AC units, as well as same-day air conditioning repair services.
Aurora (IL) Air Conditioning Repair
Our NATE Certified technicians are trained to provide AC system repair and service that keeps your air conditioning unit operating at its proper peak function. We work with all makes and models of both residential and commercial AC units in Aurora.
Your relationship with us begins as soon as you call us. We are here to answer your questions and further inform you about your Aurora home's cooling system.
If you need to schedule a visit for air conditioning repair, we will communicate with you each step of the way. We will always aim to leave your home or business knowing that we've solved your issue and given you extra peace of mind.
We further reinforce our air conditioning repair service for you with competitive warranties, including five-year warranty plans for many of our AC repair options.
AC Repair for Aurora (IL): Reasons You Might Call
Our technicians provide many different AC repairs and installs in the Aurora region, so we get a good look at what can cause an Aurora cooling system to need repair or replacement.
Beyond being your local resource for AC repair and install, we want to help you be an even more informed consumer so you can enjoy more comfort and save more money with your air conditioning.
The following are several of the more-common issues we might respond to for AC units in Aurora.
Dirty coils. Your air conditioning unit's evaporator and condenser coils collect dirt over their lengthening service time. A dirty evaporator coil will reduce airflow and insulate the coil, which lowers its ability to absorb heat. The outdoor condenser coil likewise can become soiled if the exterior AC unit is close to dust and foliage.

Fan-motor failure. Air conditioners use two fans: the blower fan inside and a fan in the outdoor AC unit that helps release hot air to the outside. If either fan fails, it will interrupt the heat-exchange cycle required for properly working AC. If the fan motor for the outdoor unit starts to malfunction, it will affect the condenser and create problem signs such as reduced airflow and no cooled air.

Refrigerant leaks. Your AC relies on a coolant to cycle and disperse both cool and warm air. If the coolant level begins to fall short, it's often because of a leak. Correcting a refrigerant leak is important for your comfort as well as environmental safety.

Compressor failure. Located in your outside AC unit, the compressor circulates the refrigerant needed for heat exchange through the coils of the indoor and outdoor cooling system components. It also applies energy to the refrigerant. A failing compressor will show signs such as "hard" starts, no cool air inside and loud noises.

Electrical-system malfunction. Because AC includes interdependent wires and parts for using the power it draws, electrical issues can often cause a cooling system to malfunction. For example, fan controls and the compressor can wear out if the AC unit cycles on and off a lot as it will when it's oversized for the house being cooled.
Other common AC repair issues in Aurora we might be called for can include:
loose seals in system ductwork

loose or worn belts

failed start or run capacitor

blocked or dirty contactor
Aurora (IL) AC Repair & Cooling: Ensuring Performance Regardless of Brand
When we're working on many different air conditioners in the Aurora region, we note that we may at times repair and service certain brands more often than we do others.
In our experience, we've found that we've addressed system failures a bit more often with Rheem and Carrier AC units. Customers have also contacted us about system-noise issues with Carrier models more frequently than for other brands.
Overall we've seen that the top reason behind AC repair and service visits involves problems with the basic, inexpensive cooling systems often installed in new homes.
Aurora (IL): Proactive Cooling System Management
While some AC units may outperform others, over time all brands of air conditioner can eventually wear or malfunction, especially as the cooling system ages. By scheduling regular AC tune-ups, you can ensure that a trained and certified professional will check every vital function and part and address any developing issues while they're still minor.
If you're someone who likes to avoid extra problems and save more money, our Exclusive Maintenance Program offers preventive care with special membership discounts and benefits. Avoid inconvenient AC unit failures, get free diagnostic testing and service visits, and enjoy having a skilled support team on quick dial!
Aurora (IL) AC Repair & Cooling: Connect with Air Dynamics Today
We became HVAC contractors because we truly enjoy sharing our professional experience in helping to ensure comfortable homes in our local communities, including Aurora. If you ever have questions or concerns about your AC, just give us a call at (630) 731-1550. We offer flexible financing options too!
Quick Facts: Aurora (IL)
As it gets closer to 200,000 people, Aurora is second only to Chicago in population of Illinois cities. Aurora adopted its nickname, "the City of Lights," in 1908. The moniker's origin came from Aurora's having been one of the first U.S. cities to implement an all-electric street-lighting system in 1881.