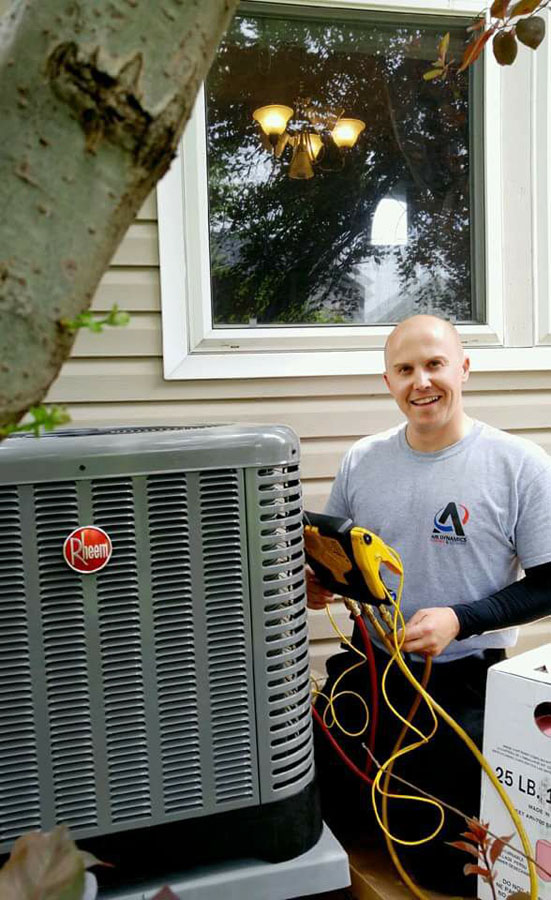 Summer in Geneva (IL) can get pretty humid and hot. When the air warms and thickens, proper air conditioning is essential for your home or business.
If you live in Geneva and are looking for professional air conditioner repair and cooling system service, Air Dynamics Heating & Cooling is ready to support you.
We will help ensure your cooling system is fully operative against rising temperatures. We specialize in air conditioning repair, AC replacement and installs and cooling system maintenance for Geneva homeowners. In some cases we can even provide same-day service for AC repairs and next-day install of new Amana AC units.
If you're also someone who plans ahead and saves money by being proactive, our Exclusive Maintenance Program offers preventive care with special benefits and discounts for members in Geneva. Avoid inconvenient AC unit failures, get free service visits and enjoy having a skilled support team on quick dial!
When you schedule air conditioning service for your home or office in Geneva, you can expect a fully satisfactory experience. Air Dynamics will always:
educate you about your specific cooling system

for pre-scheduled visits, e-mail you details about the Air Dynamics professional who will serve you

call you 30 minutes before appointment arrival

after inspecting your air conditioner, explain what may or may not be needed in a way you'll understand
Our air conditioning repair service for Geneva also includes our No Breakdown Guarantee. If you proceed with an AC repair we recommend after a system inspection and tune-up, we will guarantee the work for the following three months. Should your air conditioner not work correctly during that period, we will return to fix it for free.
We further reinforce our professional service for Geneva with competitive warranties, including five-year warranty plans for many of our air conditioning repair options.
Geneva (IL) Cooling: AC Brands We Might Often Repair
When we're working on many different air conditioners in the Geneva region, we note that we may at times repair and service certain brands more often than we do others.
When a cooling system fails, we've found it has happened a little more often with Rheem and Carrier units. The lesser-known Ducane air conditioner brand is another we've attended to for breakdowns. We've also found that Carrier models can run into issues involving noisy operation.
In our experience, the leading cause of AC repair and service visits in Geneva has been issues with the basic, inexpensive cooling systems often installed in new homes.
Geneva (IL) Air Conditioning Repair: What Are Common Problems?
Beyond being a responsive, reliable resource, we want to help you be an even more informed air conditioning consumer.
Some of the more-common AC repair and service issues we might respond to in the Geneva area include loose or corroded electrical wires and terminals, a failed start or run capacitor, or a blocked or dirty contactor.
Other frequent cooling system issues tend to involve:
Refrigerant leaks. Your AC relies on a coolant to cycle and disperse both cool and warm air. If the coolant level begins to fall short, it's often because of a leak. Correcting a refrigerant leak is important for your comfort as well as environmental safety.

Compressor failure. Located in your outside AC unit, the compressor circulates the refrigerant needed for heat exchange through the coils of the indoor and outdoor cooling system components. It also applies energy to the refrigerant. A bad compressor will show signs such as no cool air inside and "hard" starts.

Fan-motor failure. Air conditioners use two fans: the blower fan inside and a fan in the outdoor unit that helps release hot air to the outside. If either fan fails, it will interrupt the heat-exchange cycle required for properly working AC. If the fan motor for the outdoor unit starts to malfunction, it will affect the condenser and create problem signs such as reduced airflow and no cooled air.

Loud operation. Noticeable system noises can become disruptive and irritating. Some common causes of loud or noisy AC include worn-out bearings in the condenser fan motor, a failing compressor and a loose or defective condenser fan blade. Noise might also result from a faulty contactor, which provides voltage to the condensing unit.

Electrical-system malfunction. Because AC includes interdependent wires and parts for using the power it draws, electrical issues can be a frequent cause of improper system operation. For example, fan controls and the compressor can wear out if the air conditioning frequently cycles as it will when it's oversized for the house being cooled.
Another problem requiring AC repair in Geneva can arise from an overworked motor that creates mechanical stress causing motor-house wires to overheat and fuse together.
Contact Us Today for Geneva (IL) Air Conditioning Repair & Cooling
We want your cooling system in Geneva to perform as it should for you all season long. If you have a question or concern about air conditioning repair or maintenance, we can assist you with the answers and service for swift solutions. Just give us a call at (630) 731-1550. Inquire about our financing options for Geneva customers too!
Professional Certifications
North American Technician Excellence (NATE)
National Comfort Institute (NCI) for air balancing
 Visit and 'like' our Facebook page!
Geneva (IL) Quick Facts
The area was originally inhabited by the Prairie and Illinois Pottawatomi tribes. The first settler arrived in 1830 and initially named the area Big Spring. Geneva was incorporated as a city in 1887.