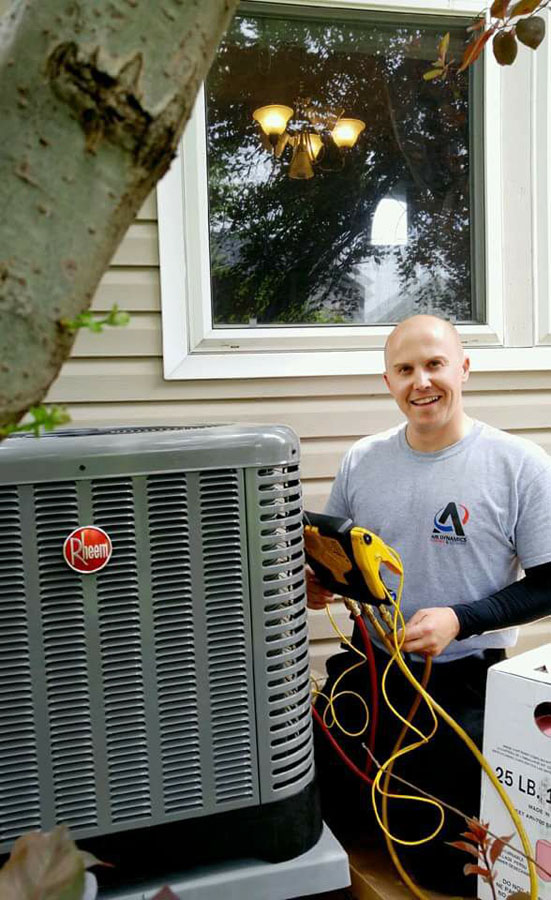 Summer can get pretty hot and humid in Geneva. When the air warms and thickens, proper air conditioning and cooling is essential for your home or business.
Air Dynamics Heating & Cooling helps ensure your cooling system is fully operative against rising temperatures. We specialize in air conditioning/cooling repair, replacement, installation and maintenance for Geneva.
Same-day service for repairs
Next-day service for installation of new Amana air conditioners
Thoroughly trained, NATE-certified technicians
We welcome every opportunity to keep you comfortable and safe through proper air conditioning. Contact us at (630) 731-1550 or e-mail us to discuss your home or business cooling system with an Air Dynamics specialist.
Air Conditioning/Cooling Maintenance / Geneva, IL
As the saying goes, an ounce of prevention is worth a pound of cure. Our All-Inclusive Maintenance (AIM) program provides our Geneva customers with the proactive care that ensures high air conditioning performance by addressing any minor issues before they become costly repairs. Membership benefits include free diagnostic testing, two yearly system tune-ups (spring and fall) and 10% savings on repairs.
An Air Dynamics cleaning and tune-up includes full inspection of the air conditioner's mechanical and electrical components, testing of the refrigerant, and checking and testing of unit temperatures according to the manufacturer's specifications.
Our No Breakdown Guarantee further supports to our commitment to you. If you proceed with a repair we recommend after a scheduled system tune-up, we will guarantee the work for the following three months. If your air conditioner does not work correctly during that time, we will return to fix it at no cost to you.
Contact us at (630) 731-1550 to further discuss our proactive, money-saving maintenance for your air conditioning and cooling in Geneva, IL. You can also schedule an appointment online.
The Air Dynamics Service Oath for Geneva, IL Air Conditioning/Cooling
Service is much more than just a word to us – it is the core of our company ethic and a principle by which we stand. Whether serving you with air conditioning repair, replacement, installation or maintenance for your Geneva home or business, Air Dynamics will always:
educate you about your specific cooling system
for pre-scheduled visits, e-mail you details about the Air Dynamics professional who will serve you
call you 30 minutes before appointment arrival
after inspecting your air conditioner, explain what may or may not be needed in a way you'll understand
offer a five-year warranty on many of our repairs
Contact us at (630) 731-1550 or e-mail us to arrange a free consultation or schedule a service appointment. We will always welcome hearing from you.
Professional Certifications
North American Technician Excellence (NATE); National Comfort Institute (NCI) for air balancing
Visit and 'like' our Facebook page!
Facts about Geneva
The area was originally inhabited by the Prairie and Illinois Pottawatomi tribes.
The first settler arrived in 1830 and initially named the area Big Spring.
Geneva was incorporated as a city in 1887.
The Fabyan Windmill on Route 25 is an authentic, working Dutch windmill dating from the 1850s. It originally operated as a grinding mill. In June 1979, it was listed as the Dutch Mill on the National Register of Historic Places.