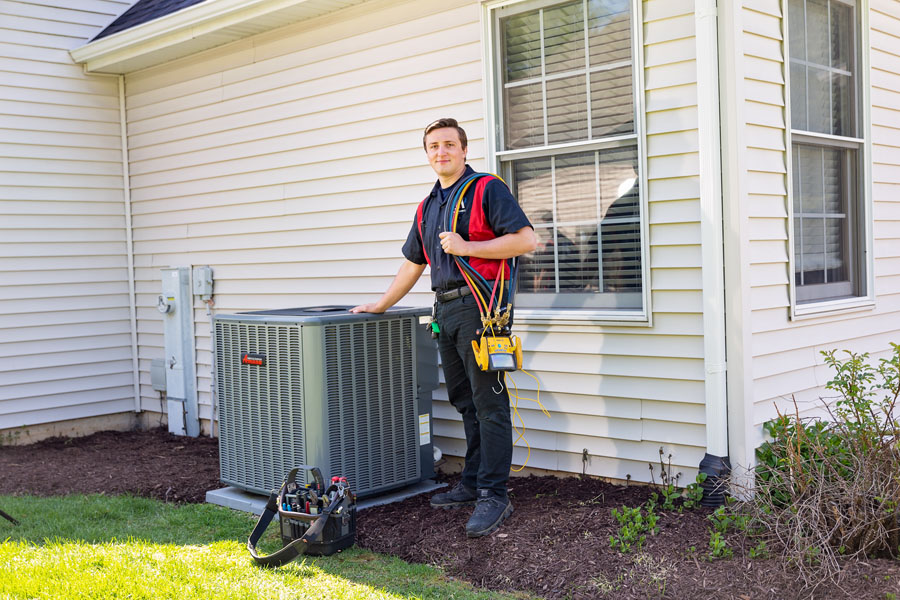 Air Dynamics Heating & Cooling is a top-rated air conditioning and cooling repair, installation and maintenance company serving Montgomery, IL.
We understand that an air conditioner can malfunction at inconvenient times. A properly functioning unit is vital to both your comfort and your safety. If you live or work in Montgomery, IL, Air Dynamics is always ready to serve you with efficient, cost-saving repair, installation and maintenance.
How you are treated and served separates one business from another. The Air Dynamics service promise to you includes:
educating you about how your specific system works, what requires attention and what is working just fine
for pre-scheduled visits, e-mailing you the details and photo of the company technician who will serve you
calling you 30 minutes before your Air Dynamics service visit
after inspecting your air conditioner, explaining what may or may not be needed in a way you'll understand
offering a three-year warranty on many of our repairs
Contact us at (630) 731-1550 for more details about our air conditioning and cooling service for your Montgomery home or business. You can also request an appointment online.
Expert Air Conditioning and Cooling Repair, Installation – Montgomery, IL
Are you running into issues with your air conditioner? The issues can range from simple inconvenience to something potentially dangerous.
Air Dynamics provides same-day service for air conditioner repair in Montgomery as well as next-day installation of new Amana air conditioners.
24/7 emergency service
Free in-home consultations to discuss your ideal air conditioner unit
Correct installation of a new Rheem air conditioner, including any extra parts it might need
Air conditioner and service warranty
Affordable payment options
Safe removal of your old air conditioner
Contact us at (630) 731-1550 or e-mail us for more information about our air conditioning/cooling repair, installation and replacement for Montgomery homes and businesses.
Vital Air Conditioning/Cooling Maintenance – Montgomery, IL
Our Montgomery customers have access to our special All-Inclusive Maintenance (AIM) program. The program provides the technical care that keeps your unit running at an optimal level by fixing minor issues before they become major ones. Benefits include no diagnostic fees, two annual system tune-ups (spring and fall) and a 10% discount on any repair.
Air Dynamics' No Breakdown Guarantee likewise fortifies our service promise to Montgomery customers. If you proceed with a repair we recommend after a system tune-up service visit, we will guarantee the work for the following three months. If your air conditioner malfunctions again during that time, we will return to correct it at no charge.
Contact us at (630) 731-1550 or e-mail us for details about our air conditioning and cooling maintenance for Montgomery, IL. Also inquire further about our AIM program and No Breakdown Guarantee.
Notable Certifications
North American Technician Excellence (NATE)
National Comfort Institute (NCI) for air balancing
Facts about Montgomery, IL (Kane and Kendall Counties)
The first European settler to visit what is now Montgomery arrived in November 1832. Shortly after, in fall 1835, Daniel S. Gray of Montgomery County, New York, came to the area, where his brother had located on a farm the previous spring.
Daniel prepared to settle there, and after his family joined him the following year, he built the territory's first wooden house. It was located to the south, near the west bank of the Fox River.
Named after Gray's native county, the village of Montgomery was incorporated in February 1858. Ralph Gray, Daniel's son, became its first president, and Montgomery's population remained at around 300 people through the rest of the century.
Today, according to the U.S. Census Bureau (2015), Montgomery comprises 19,489 people, up from 5,471 in 2000 and 18,438 in 2010. The 2010 census also identified the village as having a total area of 9.512 square miles (9.34 land, 0.172 water).
Visit and 'like' our Facebook page!