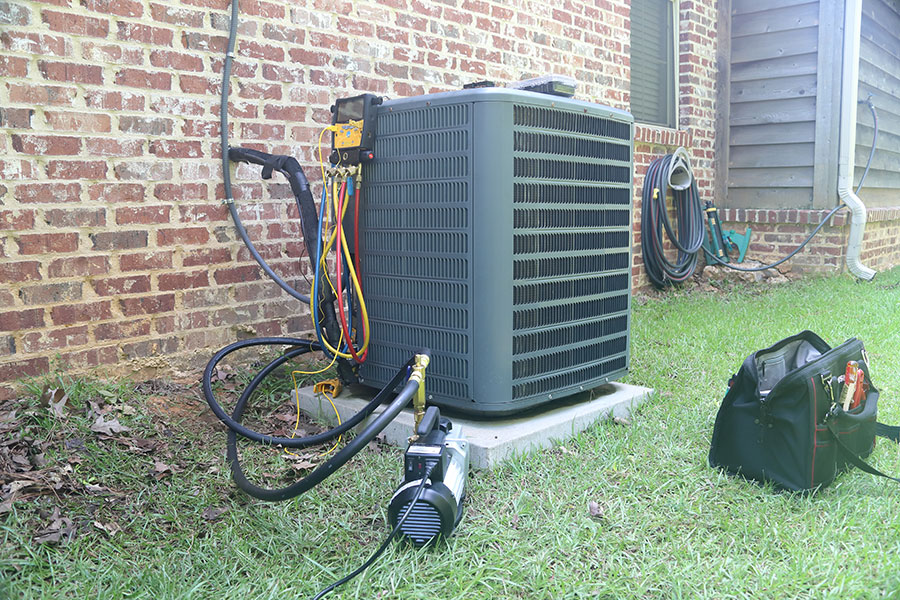 Summer is here, and the heat will be settling into Oswego, Yorkville, Naperville, Aurora and Plainfield (IL) for the next few months. The higher temperatures keep us busy here at Air Dynamics as we make sure our customers can stay comfortable and safe with the cooling support that they need.
Because we're serving Oswego, Yorkville, Naperville, Aurora and Plainfield all summer long, we get a good look at what AC issues tend to be more common, as well as which kinds of air conditioners might require a little more attention than others.
We always want to help you be an even more informed consumer and homeowner, so we'll share what we know from our local experience.
Air Conditioners: Common Local Problems
The following are among the most frequent service and repair issues we respond to in Oswego, Yorkville, Naperville, Aurora and Plainfield.
Compressor failure. Located in your outside AC unit, the compressor is vital to your cooling system. The compressor circulates the refrigerant required for heat exchange through the coils of the indoor and outdoor cooling system components. It also applies energy to the refrigerant.
Most compressors will usually function for about 10 to 15 years. You'll likely notice one that's failing by signs such as no cool air inside, loud noises and "hard" starts, and a circuit breaker that trips often.
Refrigerant leaks. Your AC depends on a coolant to cycle and disperse both cool and warm air. If the needed level of coolant starts to fall short, it's often because there's a leak in the system. Just a few causes of leaking refrigerant might be corroded tubes, an improperly installed AC unit and standard wear over time.
Correcting a refrigerant leak is important for reasons beyond keeping you properly cool during the summer. Because the coolant is a chemical compound, exposure to it can be harmful to health.
Fan-motor failure. Air conditioners use two fans. One is the blower fan inside, and the other is a fan in the outdoor unit that helps release hot air to the outside. If either fan begins to fail, it will interrupt the needed heat-exchange cycle for properly working AC.
A failing fan can have different causes, such as dirt inside the cabinet, a lack of periodic maintenance or a malfunctioning start capacitor, which provides the voltage needed to run the fan motor. If the fan motor for the outdoor unit starts to malfunction, it will affect the condenser and create problem signs such as reduced airflow and no cooled air.
Loud operation. Noticeable system noises can quickly become disruptive and irritating. Some common causes of loud or noisy AC include worn-out bearings in the condenser fan motor, a failing compressor, a loose or defective condenser fan blade, or a faulty contactor, which provides voltage to the condensing unit.
Electrical-system malfunction. Because AC includes many interdependent wires and parts for using the power it draws, electrical issues can be a regular reason that a unit might not properly operate. For example, the compressor and fan controls can wear out if the system frequently cycles as it will when it's oversized for the house being cooled.
Other problems might be loose or corroded electrical wires and terminals, a failed start or run capacitor, or a blocked or dirty contactor. An overworked motor also can create mechanical stress that causes wires in the motor house to overheat and fuse together.
Air Conditioning: Brands That Get More Attention
While we work on many different AC systems throughout Oswego, Yorkville, Naperville, Aurora and Plainfield, we've found we can sometimes service and repair certain brands more often than we do others.
Carrier and Rheem units may receive more attention for system failures here in the area than other brands do. The lesser-known Ducane brand is another we've attended to for breakdowns a bit more of late. Carrier models also have seemed to have more issues involving loud operation.
In our experience, the leading cause of AC service and repair visits locally has been issues with the basic, inexpensive systems that are often installed in new homes.
Success & Performance Regardless of Brand
While some brands may outperform others, all brands can eventually wear or malfunction over time, especially as they turn older than 15 years. However, as an informed consumer and homeowner, you can still greatly support your cooling system's performance and longevity simply by maintaining it.
By scheduling regular AC inspections and maintenance, you ensure that a trained and certified professional will check every vital function and part. Any worn components can be spotted and switched out sooner, and any developing issues can be fixed early. The result will almost always be greater operation for greater comfort and safety.
Air Dynamics offers local customers an All-Inclusive Maintenance Plan that saves you money while also providing members-only services and benefits. Ask us more about it!
Contact Us Today
Whatever your air conditioning brand or issue might be, Air Dynamics can assist you with the answers, service and skill for keeping you cool and comfortable in Oswego, Yorkville, Naperville, Aurora or Plainfield. We enjoy serving our local customers and always welcome your call when you need us. Just give us a ring at (630) 731-1550!